Welcome to Logue Library
About the College Seal: The Griffin, Lilies and a Book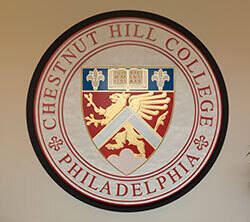 From The Chestnut Hill College Website…
The College Seal, chosen in May of 1928, was adapted from the ancient family coat-of-arms of Henri de Maupas, Bishop of LePuy, France, the first ecclesiastical superior of the Sisters of Saint Joseph, who canonically approved the order on March 10, 1961.
The Griffin
A silver carpenter's square (the symbol of St. Joseph) and a heraldic mount, which symbolizes the consecration of the Congregation of the Sisters of Saint Joseph to the Most Holy Trinity, were added to the Maupas shield (a gold griffin on a scarlet background).
The griffin, a combination of eagle and lion, is a fabulous heraldic animal. In ecclesiastical heraldry, the eagle is symbol of St. John; the lion, a symbol of St. Mark.
Lilies and a Book
In the "chief" (upper portion) are the lilies of Our Lady and St. Joseph, and in the center, a book, traditional heraldic emblem of a seat of learning. On its open pages is the College motto: Fides – Caritas – Scientia (Faith – Charity – Knowledge).
Mission Statement
In accord with Chestnut Hill College's mission to provide a holistic education in an inclusive Catholic community marked by academic excellence, Logue Library proposes to offer the college community excellent information services by means of all appropriate media. The library staff has the primary responsibility for designing, developing, organizing and maintaining the collection, services, and facilities that support this effort.
Librarians share with other members of the college community the responsibility for the education of students as independent, ethical information seekers and critical thinkers. They advance this duty by providing welcoming spaces for intellectual discovery and by promoting the innovative adoption of emerging learning technologies as budgets permit.
To accomplish this, they value exceptional customer service, inclusiveness and respect for the individual, collaboration and creativity in serving each patron as well as accountability for actions and decisions.
Accessibility
Chestnut Hill College's Logue Library Services are dedicated to providing equal access to library collections and services. Currently, our library facilities are not accessible to persons with mobility needs. However, we are dedicated to providing timely access and reasonable accommodations to persons with accessibility needs. If you have mobility concerns and are unable to use stairs, please contact library services by emailing: librarians@chc.edu or by calling: 215-248-7050.
We also strive to provide seamless and accessible use of the Logue Library Services website. We are in the process of improving the user experience for everyone, and applying the relevant accessibility standards. If you should have any concerns or difficulty navigating our website, please contact library services by emailing: librarians@chc.edu or by calling: 215-248-7050.
You can also report any accessibility concerns to the Director of the Disability Resource Center by emailing disabilities@chc.edu or by calling: 215-242-7738.
A cool pic of Logue library…
Here is a historical image of the first books being transferred from the old library in St. Joseph's Hall to Logue Library.
The Chestnut Hill College Lacrosse team removing unused bound periodicals from the basement stacks