Public Libraries
Make use of your local public library card. It gives you access to tons of online content and ebooks for free. The following is a list of local public libraries to get a card from, if you don't already have one.
General Resources
African American Urban History since World War II by Kenneth L. Kusmer; Joe William Trotter – ISBN: 9780226465128Publication Date: 2009-08-01Historians have devoted surprisingly little attention to African American urban history of the postwar period, especially compared with earlier decades. Correcting this imbalance, African American Urban History since World War II features an exciting mix of seasoned scholars and fresh new voices whose combined efforts provide the first comprehensive assessment of this important subject. Includes sections on Philadelphia.
America' Growing Inequality by Chester Hartman – ISBN: 9780739191729Publication Date: 2014-01-01America's Growing Inequality presents the links between racism and poverty in the United States, highlighting the work of social justice organizations to facilitate an end to their presence in society.
Encyclopedia of Race and Crime by Helen Taylor Greene (Editor); Shaun L. Gabbidon (Editor)ISBN: 9781452266091Publication Date: 2009-04-14The encyclopedia is designed to provide reference material and an introduction to historical and contemporary race and crime topics. It supports study, research, and instruction by presenting brief overviews and references to more in-depth presentations in other published sources. … The encyclopedia includes entries related to race and crime that are organized in the Reader's Guide as follows: Biographies, Cases, Concepts and Theories, Corrections, Courts, Drugs, Juvenile Justice, Media, Organizations, Police, Public Policy, Race Riots, Specific Populations, Violence and Crime.
The Evolution of Community Policing from Theory to Implementation by David P. Weiss – ISBN: 9780773419179Publication Date: 2010-11-23This book examines the evolution of the concept of community policing and the theory of broken windows (introduced by James Q. Wilson and George Kelling in a 1982 Atlantic Monthly article). The work makes policy recommendations for the future of policing in a post-September 11 world.
Handcuffed by Malcolm K. Sparrow – ISBN: 9780815727835Publication Date: 2016-04-26The police shooting of an unarmed young black man in the St. Louis, Missouri, suburb of Ferguson earlier this year sparked riots and the beginning of a national conversation on race and policing. Much of that conversation has focused more on social issues. Malcolm Sparrow, who teaches at Harvard's Kennedy School and is a former British police detective, argues in this new book that there is another dimension that played a role not only in Ferguson but in many other high-profile police killings of unarmed blacks: the character of policing itself.
Mourning in America by David W. McIvor; David M. McIvor – ISBN: 9781501706189Publication Date: 2016-10-20Recent years have brought public mourning to the heart of American politics, as exemplified by the spread and power of the Black Lives Matter movement, which has gained force through its identification of pervasive social injustices with individual losses. The deaths of Sandra Bland, Michael Brown, Freddie Gray, Trayvon Martin, Tamir Rice, Walter Scott, and so many others have brought private grief into the public sphere.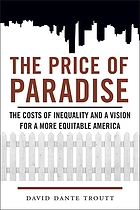 Price of Paradise by David Dante Troutt – ISBN: 9780814724897Publication Date: 2014-01-01Many American communities, especially the working and middle class, are facing chronic problems: fiscal stress, urban decline, environmental sprawl, failing schools, mass incarceration, political isolation, disproportionate foreclosures, and severe public health risks. In The Price of Paradise, David Dante Troutt argues that it is a lack of what he calls 'regional equity' in our local decision making that has led to this looming crisis now facing so many cities and local governments.
Nat Turner's Rebellion 1831
Nathanial "Nat" Turner (1800-1831) was an enslaved man who led a slave rebellion in Virginia in August 1831. With six others he killed the Travis family and enlisted about 75 other enslaved people in an insurrection that resulted in the murder of 51 white people. Afterwards Turner hid nearby for six weeks until his capture and hanging along with 16 of his followers.
Nat Turner and the Rising in Southampton County by David F. Allmendinger – ISBN: 9781421414805Publication Date: 2014-11-01In August 1831, in Southampton County, Virginia, Nat Turner led a bloody uprising that took the lives of some fifty-five white people–men, women, and children–shocking the South. Nearly as many black people, all told, perished in the rebellion and its aftermath. Nat Turner and the Rising in Southampton County presents important new evidence about the violence and the community in which it took place, shedding light on the insurgents and victims and reinterpreting the most important account of that event, The Confessions of Nat Turner.
ISBN: 9781423784791Publication Date: 2003-01-01Nat Turner's name rings through American history with a force all its own. Leader of the most important slave rebellion on these shores, variously viewed as a murderer of unarmed women and children, an inspired religious leader, a fanatic–this puzzling figure represents all the terrible complexities of American slavery. And yet we do not know what he looked like, where he is buried, or even whether Nat Turner was his real name.
ISBN: 9780807869468Publication Date: 2011-09-01Perhaps no other moment in history crystallized the fears of slave owners in the South like the August 21-22, 1831, slave insurrection led by Nat Turner in Southampton, Virginia. 'The Confessions of Nat Turner' details Turner's life and the events surrounding that armed revolt, which left more than fifty men, women, and children dead and that culminated in Turner's execution.
The Confessions of Nat Turner by William Styron
Historical fiction: The Confessions of Nat Turner is narrated by Nat himself as he lingers in jail through the cold autumnal days before his execution. The compelling story ranges over the whole of Nat's Life, reaching its inevitable and shattering climax that bloody day in August.